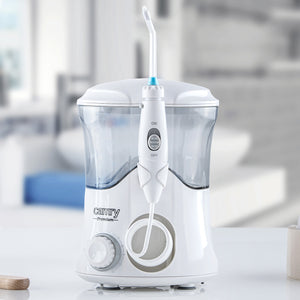 Oral Irrigator
SKU:
50570
PROFESSIONAL 
Model no: CR2172
Brand: CAMRY
ALU: 5902934834025
Color: WHITE/GREY
Camry – Oral Irrigator
Professional
Brand: Camry
Model: CR2172
Color: White/Grey
Water Container: 600ml (0.6 Liter)
Rated Power: 18W (max. 30W)
Rated Voltage: 220-240V
Rated Frequency: 50/60Hz
7 Tips:
Normal Tips – x3
Tongue Cleaning tip – x1
High pressure tip – x1
Periodontal tip – x1
Orthodontic tip – x1
10 Pressure Settings: 30-125 psi (2.06 – 8.6 bar)
Box Dimension (W x D x H): 15.5 x 14 x 20.8cm (6.1" x 5.5" x 8.2")
Warranty: 12 Months Warranty
Features:
Auto shut off.
Removable Lid.
Professional equipment.
The oral irrigator is equipped with a 600 ml water container.
The irrigator ensures optimal oral hygiene for the whole family.
It will allow you to thoroughly clean your teeth and tongue with a single-use.
Just select the appropriate one, fill the container with water and set the pressure
The oral irrigator CAMRY CR 2172 is a device that will help take care of our oral health.
This device facilitates gum massage, thorough cleaning of the tongue and dental pockets.
The set includes 7 tips: 3 normal tips, tongue cleaning tip, high-pressure tip, periodontal tip and orthodontic tip.
Click here for User Manual
We Also Recommend