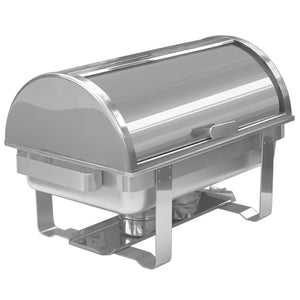 Chafing Dish (GN 1/1)
SKU:
44742
HALF ROLL TOP COVER (201 STAINLESS STEEL)
Model: AT721R63-1
Brand: ATOSA
ALU: 20938
Size: GN 1/1
Color: SILVER
Atosa – Chafing Dish, Half Roll Top
Full Size, GN 1/1
Brand: Atosa
Model: AT721R63-1
Color: Silver
Material: Stainless Steel (201)
Includes:
Cover - X1
Water Pan – X1
Food Pan – X1
Frame – X1
Fuel Holders – X2
Dimension (W x D x H):
Water Pan: W 530 x D 325 x H 60mm
Food Pan: W 543 x D 348 x H 101mm
Frame: W 605 x D 323 x H 205mm
Fuel Holders: Dia. 90 x H 60mm
Features:
Smooth surface, easy to clean.
Two handles on two sides of the chafing dish are safe for you to carry and take the dish and prevent your hand from being scald.
Fuel Holder Ensures Safety: the fuel holder ensures you have sufficient heat throughout the entire pan. This protective holder also promises patron and staff safety, keeping hands, clothes, and other flammable contents a safe distance from the flame.
Perfect for large gatherings, events, buffets, hotel breakfast areas, brunches, catering, parties, wedding banquets and self-service restaurant etc.
We Also Recommend