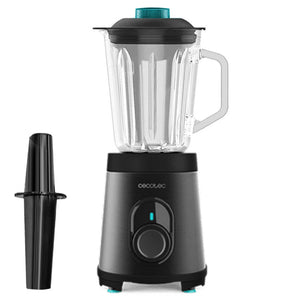 Blender (1.5L)
SKU:
50583
POWER BLACK TITANIUM 1200 INOX (1200W)
Model no: 4158
Brand: CECOTEC
ALU: 8435484041584
Size: 1.5L
Color: INOX
Cecotec – Blender
Power Black Titanium 1200 Inox
Brand: Cecotec
Model: 4158
Color: Inox
Capacity: 1.5L
Rated Power: 1200W
No. of Blades: 6
RPM: 23000rpm
No. of Speeds: 5 Speeds
Pulse function: Yes
Accessory Included: Pusher
Warranty: 12 Months Warranty
Features:
Jug suitable for cleaning in the dishwasher.
Includes pusher to facilitate the grinding of food.
Easily removable blades for a more comfortable cleaning.
Lid with hermetic closure and dosing cap to introduce ingredients during operation.
Black titanium coated blades, maximum hardness and sharp for longer to grind all types of food.
High-resistance cast glass jug with 1.5 liter capacity and comfortable pouring spout to prevent stains and splashes.
Stainless steel jug blender with powerful 1200 W motor and 23000 rpm speed. Get optimal shredding at the moment.
6-blade knife designed to generate a constant movement of the food and guarantee fine and homogeneous results in a short time.
It has 5 speeds and a Pulse function to adapt to the needs of all foods. Capable of crushing and pulverizing at maximum speed even the hardest foods. Ice pick.
Click here for User Manual
We Also Recommend