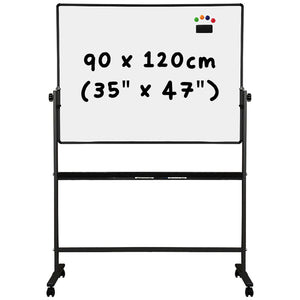 Whiteboard
SKU:
48292
MAGNETIC  
Model no: 7882
Brand: DELI
ALU: 6921734978820
Color: WHITE
Size: 90X120CM

Deli – White Board
Double-Sided H-Shaped Whiteboard
Brand: Deli
Model: 7882
Color: White
Board Size: 90 x 120cm (35.4" x 47.2")
Material: Thickened Carbon Steel
Overall Dimension (W x D x H): 130 x 51 x 165.5cm (51.2" x 20" x 65.2")
Features:
Durable and easy to use.
Smooth surface wipes clean easily.
Large pen tray at the base of the board.
Freely Movable Casters: With 4 lockable castors for free moving.
Includes: Eraser (x1), Whiteboard Marker (x2), & Magnetic Buttons (x4).
Magnetic Surface: Smooth & durable magnetic writing surface, easy dry wipe.
Rotary Handle: Loosen the left and right handles to rotate the whiteboard easily.
Double-sided Magnetic Surface: Two durable dry wipe surfaces with double the writing area as a fixed magnetic board.
Highly durable magnetic dry erase board for writing on with dry erase markers in meetings, presentations, and more.
360° Rotation & Height Adjustable: Capable of being rotated 360 degrees and locked in place at the desired angle, double-sided panels can be switched at will; the height can also be easily adjusted to the most comfortable height according to your needs, whether it is adults or children.
We Also Recommend