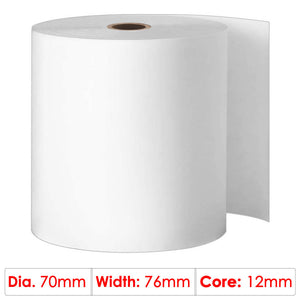 Cash Register Roll
SKU:
748
1-PLY
Brand: SINARLINE
ALU: 830
Size: 76X70X12MM
Color: WHITE
Sinarline – 1-Ply Paper Rolls, White
Brand: Sinarline
Color: White
Size: 76mm x 70mm x 12mm
Paper width: 76mm
Roll diameter: 70mm
Core diameter 12mm
Features:
Fit most direct payment/debit machines.
Quick release adhesive tape on the flap.
Quality paper rolls compatible with most cash registers and printing calculators.
We Also Recommend