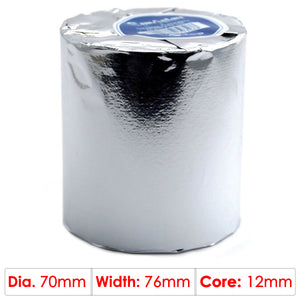 Cash Register Roll
SKU:
32006
THERMAL
Brand: SINARLINE
ALU: 4450
Size: 76X70X12MM
Color: WHITE
Sinarline - Thermal Paper Rolls, White
Brand: Sinarline
Color: White
Size: 76 x 70 x 12mm
Paper width: 76mm
Roll diameter: 70mm
Core diameter 12mm
Features:
Roll of thermal printer paper POS and cash register.
Ideal for use in thermal printers, POS terminals, cash registers, etc.
This type of paper is used with printers that work by direct thermal printing.
Thermal paper coil high sensitivity and low residue which enables clear and more permanent image at the time of use.
We Also Recommend