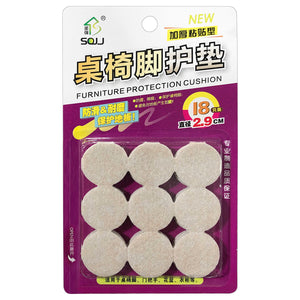 Furniture Protector (18 Pcs)
SKU:
49800
EVA 
Model no: SQ-713
Brand: CH&Q
ALU: 6935606407134
Size: 2.9CM
Color: BROWN
CH&Q – Furniture Protector
18 Pieces
Brand: CH&Q
Model: SQ-713
Color: Brown
Diameter Size (Each): Ø 2.9cm (Ø 1.1")
Material: EVA
Features:
Protect your floors from scuffing.
Helps your furniture stay in one place.
Includes: 18 pieces easy to use and paste.
Suitable for glass, metal, tile, vinyl, and wood
Avoids damage to walls caused by door handles.
Can be attached to the table, chairs and other furniture to prevent any damage or scratches.
Avoid damage to the surface of furniture when transporting goods, reduce noise and vibration.
We Also Recommend