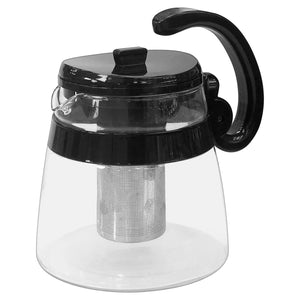 Teapot (1L)
SKU:
51613
GLASS WITH LID  
Model no: R358
Brand: DELISOGA
ALU: 6933890351812
Size: 1000L
Color: CLEAR
Delisoga – Teapot
With Filter
Brand: Delisoga
Model: R358
Capacity: 1000ml (1 Liter)
Color: Clear
Material (Body): Glass
Material (Handle & Lid): Plastic
Material (Filter): Stainless Steel
Dimension (Bottom Dia. x H): 14.5 x 14.5cm (5.7" x 5.7")
Features:
With Stainless Steel Filter.
High quality heat resistant glass teapot
Clear glass makes the teapot contemporary, stylish.
Excellent quality, keep brightness after frequent usage.
Can be used as a teapot, coffee pot or brewing all kinds of tea bags, tea leaves.
We Also Recommend