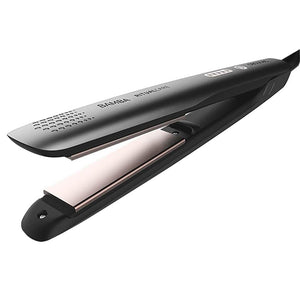 Hair Straightener
SKU:
44620
BAMBA RITUALCARE 890 TITANIUM
Model no: 4213
Brand: CECOTEC
ALU: 8435484042130
Color: DARK GREY
Cecotec – Hair Straightener
Bamba RitualCare 890 Titanium
Brand: Cecotec
Model: 4213
Color: Dark Grey
Plate Material: Titanium
Coating: Titanium
Temperature Range: 140° - 220°C
Cable Length: 3m
Accessory Included: Silicone Plate Protector
Warranty: 12 Months Warranty
Features:
Adjustable temperature between 140 ºC and 220 ºC, with 5 preset temperature settings, designed for all hair types.
MultiStyle: Straightener designed to achieve perfect straightening and flexible, defined waves and curls, without frizz.
3D floating plates to unify the pressure on all the hair and maintain constant contact between the plates and the strand.
Automatic safety disconnection after 30 minutes of inactivity to avoid accidents and the device overheating.
3 meter cable and 360º swivel system for total freedom of movement. Included: silicone plate protector to store and transport the straightener without damaging the plates.
Ultra-smooth plates with an advanced titanium coating, designed to have maximum control and precision in your hairstyles, while improving glide over the hair to reduce jerking and hair breakage during use.
We Also Recommend