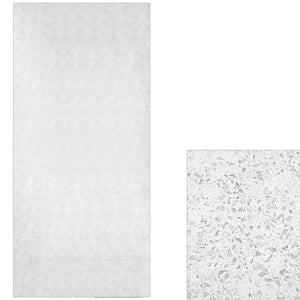 Countertop Kitchen (3000 x 1400mm)
SKU:
48485
QUARTZ (FULL SLAB) 
Model: BN-Q1019
Brand: BN-STONE
ALU: 22143
Size: 3000X1400X18MM
Color: WHITE

BN-Stone - Countertop Kitchen
Full Slab
Brand: BN-Stone
Model: BN-Q1019
Color: White
Material: Quartz
Thickness: 18mm
Features:
Durable.
Nonporous surface protects against bacteria and germs.
Low maintenance and easy to clean.
Resists heat, scratches and stains.
Colors and patterns stay consistent.
Quartz countertops offer worry-free maintenance and many other advantages.
Quartz countertops require minimal maintenance and are incredibly strong. They can endure daily stressors without scratching or sustaining damage.
Dimension:
Length x Depth
Millimeter (mm): 3000 x 1400mm
Inch ("): 118.1" x 55.1"
Feet (') Inch ("): 9'10" x 4'7"
We Also Recommend