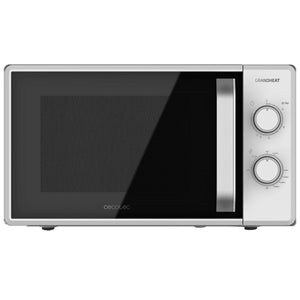 Microwave Oven (23L)
SKU:
52172
800W GRANDHEAT 4110 
Model no: 1697
Brand: CECOTEC
ALU: 8435484016971
Color: WHITE/BLACK
Size: 23L

Cecotec – Microwave Oven
Grandheat 4110
Brand: Cecotec
Model: 1697
Color: White/Black
Capacity: 23 Liter
Rated Input Power: 1250W
Rated Output Power (Microwave): 800W
Rated Output Power (Grill): 1000W
Defrost: Yes
Timer: up to 30 minutes
No. of Power Levels: 6 levels
Accessory Included: Turntable (x1), Grill Stand (x1)
Dimension (W x D x H): 49.5 x 41 x 29cm (19.5" x 16.1" x 11.4")
Warranty: 12 Months Warranty
Features:
Timer up to 30 minutes.
23-liter capacity microwave.
End of cooking acoustic warning.
Defrosting mode that adapts to all foods.
Microwave Output 800 W of power on 6 levels.
Elegant silver design with Full Crystal door and metallic details.
Interior with Anti-Dirt iTech coating, easier to clean as it repels dirt.
3DWave technology with a more efficient wave system that envelops food 100%.
We Also Recommend