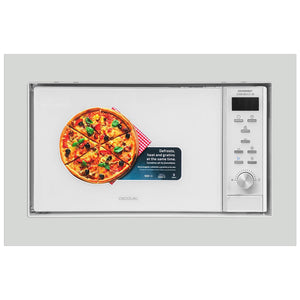 In-Built Microwave Oven (23L)
SKU:
48055
IN BUILT
Model no: 1388
Brand: CECOTEC
ALU: 8435484013888
Color: WHITE
Size: 23L
Cecotec – In-Built Microwave Oven
Grandheat 2350 Built-in White
Brand: Cecotec
Model: 1388
Color: White
Capacity: 23L 
Timer: 95 min
Glass Tray Size (Dia.): Ø27cm
Rated Input Power (Grill): 1000W
Rated Input Power (Microwave): 1400W
Rated Output Power (Microwave): 900W
Microwave Frequency: 2450MHz
Rated Voltage: 230V-240Hz
Rated Frequency: 50Hz
Overall Dimension (W x D x H):
Centimeter (cm): 59.5 x 35 x 39cm
Inch ("): 23.4" x 13.8" x 15.4"
Warranty: 12 Month Warranty
Features:
Timer up to 95 minutes
23-litre digital built-in microwave.
The glass tray has a 27-cm diameter.
The control panel consists of buttons and a knob.
Inside coated with stainless steel for easy cleaning.
The door can be easily opened by pressing a button.
1000-W grill for perfect grilling results, fast and simple.
It features Child lock system to prevent accidents from occurring.
Quick Start: Instant operation at top power for a maximum of 10 minutes.
Elegant white design that perfectly suits any type of kitchen, providing it with a modern, cutting-edge touch.
Auto start: It can be programmed to turn on under the desired mode or function at the desired time.
900 W in 6 power levels. Combine microwave and grill functions, or programme multi-sequence cooking cycles.
Weight defrost mode, for you to defrost foods fast and evenly preserving food's textures and natural freshness.
It includes 9 preset functions for cooking different types of foods: Milk/coffee, rice, pasta, meat, potatoes, fish, chicken, skewers and Auto reheat function.
Click here for User Manual
We Also Recommend