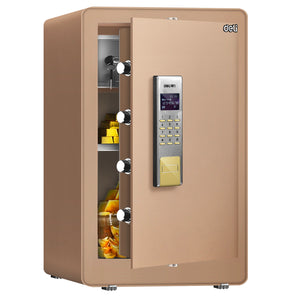 Safe
SKU:
50293
ELECTRONIC LOCK 
Model no: 4084
Brand: DELI
ALU: 6921734937094
Color: GOLD
Deli – Safe
Electronic & Key Lock
Brand: Deli
Model: 4084
Color: Gold
Material: Solid Steel
No. of Lock Bolts: 6
Display: LED Digital
Lock Type:  Electronic Key Pad + Key Lock
Accessories Included:
Emergency Keys – x4
Expansion Bolts – x2
External Battery Box – x1
In-Built Cabinet Keys – x2
AA batteries – x4
User Manual – x1
Features:
6 solid bolts.
LED Display shows time.
3mm full solid lock bolt.
6mm thickness door panel.
Alarm function to prevent thieves.
With 2 expansion bolts, can easily fix the safe to the wall.
Built-in private storage space, easy to store private small valuables.
Detachable shelf can be adjusted to accommodate smaller or bigger items.
Dimension & Weight:
Product Dimension (W x D x H):
Centimeter (cm): 38 x 36 x 61cm
Inch ("): 15" x 14.2" x 24"
Product Weight: 31.5kg
Click here for User Manual
We Also Recommend