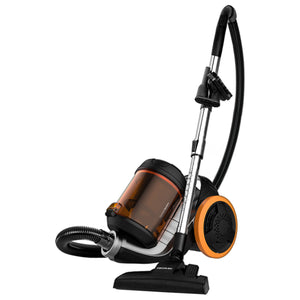 Vacuum Cleaner
SKU:
52141
800W POPSTAR 4000 ULTIMATE
Model no: 5559
Brand: CECOTEC
ALU: 8435484055598
Color: GREY/ORANGE
Cecotec – Vacuum Cleaner
Conga PopStar 4000 Ultimate Pro
Brand: Cecotec
Model: 5559
Color: Grey/Orange
Capacity: 3.5 Liter
Rated Power: 800W
Bagless: Yes
Suction power: up to 20 kPa
Filtering system: high-efficiency filter (exterminates 99 % of bacteria).
Accessories Included:
Suction Base – x1
Telescopic Tube – x1
Flexible Tube – x1
Crevice Tool – x1
Round Brush – x1
Bristle Brush – x1
Garment Brush – x1
Accessory holder – x1
Warranty: 12 Months Warranty
Features:
Large radius of action of up to 9 meters.
OnlySilence technology that achieves silent cleaning below 72 dB.
Parking system that allows fixing the metal tube in a vertical position.
It includes a large tank with a capacity of up to 3.5 L and easy and hygienic emptying.
It achieves a suction power of up to 20 kPa to finish with the most difficult dirt on any surface.
It includes a set of high-efficiency filters that filter a large percentage of particles and allergens for extreme filtering.
Bagless multicyclonic. Maximum tank capacity of up to 3.5 L with high-efficiency filtering and metal telescopic tube.
The EasyMove system allows comfortable and easy handling of the vacuum cleaner thanks to its compact and lightweight design.
Cyclonic System technology that thanks to its bagless multicyclonic system achieves extreme cleaning while maintaining constant suction power throughout its useful life.
It cleans on any surface thanks to its wide range of accessories that includes a suction head with two positions for carpets and smooth floors, a furniture accessory, a corner accessory and a fabric accessory.
Regulate the power according to your needs thanks to the Smart Power Regulation system that allows you to modify the power to adapt cleaning to any situation. Use Turbo mode for the most difficult cleaning and carpets and Eco mode for daily cleaning saving energy.
Click here for User Manual
We Also Recommend