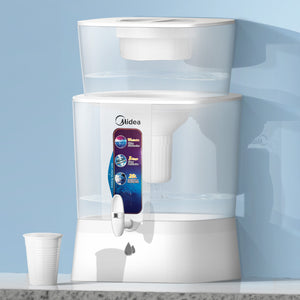 Water Purifier (25L)
SKU:
43175
WATER BOTTLE FILTRATION SYSTEM
Model: QU1646-25L
Brand: MIDEA
ALU: 20100
Size: 25LTR
Color: WHITE
*Note: This Water Purifier will be Discontinued Once Stock is Finished.
Midea - Water Purifier
Water Bottle Filtration System
Brand: Midea
Model: QU1646-25L
Color: White
Material: Plastic
Barrels Capacity:
Upper Barrel: 9 Liter
Lower Barrel: 16 Liter
Total Capacity: 25 Liter
Applicable water temperature: 4 – 38C °
Working Range: For using cold municipal water supply only.
Warranty: 12 Months Warranty
Advantages:
Safe: Bacteria reduction rate is up to 99.99%.
Healthy: Chlorine reduction rate is more than 85%.
Elegant Design: Nice and elegant shape with golden ratio.
Big Capacity: Big tank supply more clean and healthy water for you and your family.
3 Stages Filtration: The water filtered by sediment and carbon and Ultra-filtration (UF) 3 protection.
Filters Specs:
Active Carbon:
Filter Lifespan: 4000L for 6 – 12 months
Purpose: Reduce the chlorine and absorb organic contaminants.
Ultra-Filtration (UF) Membrane:
Filter Lifespan: 1500L for 6 – 12 months
Purpose: Reduce sediment, suspended solid, bacteria.
Service life of filter: 6 – 12 months (the replacement cycle is subject to the local water quality)
Dimension & Weight:
Width x Depth x Height
Product Dimension: 29 x 29 x 50cm (11.4" x 11.4" x 19.7")
Packing Dimension: 30.2 x 30.2 x 30cm (11.9" x 11.9" x 11.8")
Net Weight: 2.4kg
Gross Weight: 2.9kg
Packing Contents:
Water Purifier – x1
Active Carbon Filter – x1
UF Membrane – x1
User Manual – x1
Click here for User Manual
Click here for Replacement Water Filters (Sold Seperately)
We Also Recommend