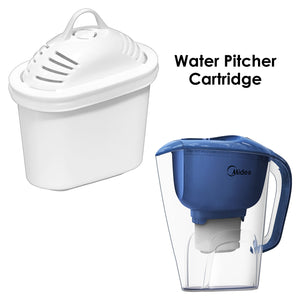 Water Filter
SKU:
43184
PITCHER FILTER
Brand: MIDEA
ALU: 20108
Size: 150L
Color: WHITE
Midea – Water Filter
Water Pitcher Cartridge
Brand: Midea
Color: White
Material: Plastic
Water Temperature: Not exceeding 38°
Filter Cartridge Lifespan: 150L (Approximately 2 months)
Average Filtration Flow Rate: 320 mL/min
Dimension (W x D x H): 56 x 99 x 117mm
Features:
Filtration Technology
Micro-Screen Filter: Effectively blocks out rust and water contaminants. Removes sediments to improve water quality.
Ion Exchange Resin: Soften water effectively for better absorption.
Activated Carbon: Reduces chlorine and bad odor present to enhance the taste of water for drinking and cooking.
Note: Compatible for Water Filtration Jug (QC1548) only.
We Also Recommend