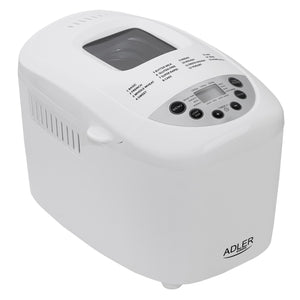 Bread Maker (1.5kg)
SKU:
50542
15 PROGRAMS (850W) 
Model no: AD6019
Brand: ADLER
ALU: 5908256839755
Color: WHITE

Adler – Bread Maker
Brand: Adler
Model: AD6019
Color: White
Rated Power: 850W
Rated Voltage: 220-240V
Rated Frequency: 50/60Hz
15 Programs:
Basic Bread
French bread
Whole-wheat bread
Sweet bread
Butter Bread
Gluten-free bread
Fast growing bread
Dough
Kneading
Yeast dough
Pasta dough
Yogurt
James
Baking
(According to your own recipe)
Accessories Included:
Measuring Spoon – x1
Measuring Cup – x1
Hook for removing stirrers from bread – x1
Dimension (W x D x H): 31 x 41 x 32cm (12.2" x 16.1" x 12.6")
Warranty: 12 months warranty
Features:
15 programs.
Double metal stirrer.
Removable baking basket.
The lid has a window through which you can observe the process.
The bread machine is equipped with two kneading blades, which ensure an exact mixture of ingredients.
You can choose the size of a loaf (from 1000 to 1500g) and choose the color of the skin, i.e. the degree of browning.
Additional functions such as maintaining the temperature or a delayed start enable you to control the baking process.
Using the bread maker AD 6019 you can choose between 15 various programs of preparing dough and baking process.
Inside there is a removable baking dish with a non-stick coating that makes it easier to remove the already baked loaf.
What is more, the device has an LCD display and buttons in an easily accessible place, so that the use of this device is really intuitive!
We Also Recommend