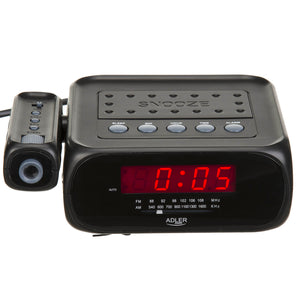 Alarm Clock Radio with Projector
SKU:
50540
FM/AM TUNER 
Model no: AD1120
Brand: ADLER
ALU: 5908256833388
Color: BLACK

UBL – Alarm Clock
Alarm clock radio with projector.
Brand: Adler
Model: AD1120
Color: Assorted Color
Material: Plastic
Rated Power: 6W
Rated Voltage: 230W
Rated Frequency: 50Hz
Dimension (W x D x H): 16 x 19 x 7cm (6.3" x 7.5" x 2.8")
Warranty: 12 Months Warranty
Features:
Antenna.
AM/FM Tuner.
Built-in speaker.
Alarm function.
Snooze function.
70x20mm LED display.
Memory battery backup.
Automatic shutdown timer.
Volume and turning control.
Thanks to the 160° projector with adjustable focus, the hour can be displayed on a wall or on a ceiling.
Click here for User Manual
We Also Recommend