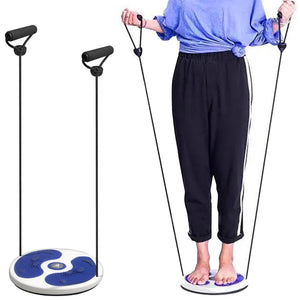 Twist Board
SKU:
52821
WITH ELASTIC ROPE 
Model: R091-BL
Brand: AGNITE
ALU: 6970914826895
Color: BLUE

Agnite – Twist Board
With Rope Hangles
Brand: Agnite
Model: R091-BL
Color: Blue
Material: PP plastic + Steel
Dimension (Dia. x H): 270 x 31mm (10.6" x 1.2")
Features:
Thin waist.
Non-slip base.
With elastic rope.
Safe and reliable in using, compact in structure.
Equipped with magnetic beads and elastic rope.
Suitable for family (living room, balcony, patio, garden…), public place, gymnasium sanatorium, etc.., and it can be out and used freely.
By dirt of user's weight through stepping on the massage mat that that was designed by special material, the sole of the foot can be stimulated through and through, with the conduction of terminal nerve and effect of magnetic therapy to waken the motive power of the body apparatus.
We Also Recommend