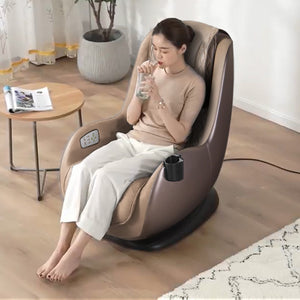 Massage Chair
SKU:
53419
PU
Model no: MC601
Brand: ANJI
ALU: 58291
Color: BROWN
Anji – Massage Chair
Brand: Anji
Model: MC601
Color: Brown
Rated Power: 60W
Rated Voltage: 100-240V~
Rated Frequency: 50/60Hz
Material: PU
Features:
Compact massage chair for the home or office. Allows you to relace your muscles after a hard day's work.
Automatic massage: A cycle of three automatic modes – "full body", "cervical vertebral" and "waist and hips".
A convenient control panel, a cup holder with your favorite drink and a USB connector for charging your phone.
Dimension & Weight:
Product Dimension:
Overall:
Millimeter (cm): W 640 x D 1030 x H 900mm
Inch ("): W 25.2" x D 40.6" x H 35.4"
Feet (') Inch ("): W 2'1" x D 3'5" x H 2'11"
Seat:
Centimeter (cm): W 430 x D 500 x H 400mm
Inch ("): W 16.9" x D 19.7" x H 15.7"
Backrest Height: 700mm (27.6")
Net Weight: 31kg
Gross Weight: 38kg
Packing Contents:
Massage Chair – x1
Power Cord – x1
For more detailed specifications, please refer to the User Manual
We Also Recommend