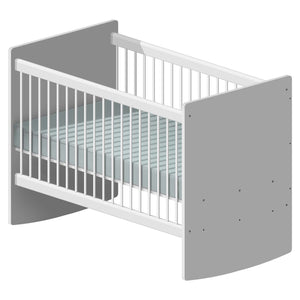 Baby Cot with Foam Mattress
SKU:
52618
BABY CRADLE WITH MATTRESS
Brand: BABY DARLING/EON
ALU: 54127
Color: WHITE

Baby Bed & Mattress Bundle
2 Pieces
#52550 - Baby Cot - x1
Brand: Baby Darling
Color: White
Material: MDF
Features:
The bed base can be placed at two different heights.
Convert able into study desk when your kid grows up.
Rocking cradle, gentle swinging motion soother your baby to sleep.
The crib base is well ventilated for good air circulation which gives your child a pleasant sleeping climate.
#46076 - Baby Foam Mattress - X1
Baby Foam Mattress (Waterproof)
Brand: Eon
Model: F202414
Thickness: 4-Inch
Overall Dimensions:
Width x Depth x Height
Centimeter (cm): W 124.5 x D 69.5 x H 90.5cm
Inch ("): W 49" x D 27.4" x H 35.6"
Feet (') Inch ("): W 4'1" x D 2'3" x H 3'
Thickness: 4-inch
Centimeter (cm): 64 X 120cm
Inch ("): 25.2" x 47.2"
Feet (') Inch ("): 2' x 3'11"
Click here for Assembly User Manual
Baby Cot - Assembly Manual
Kids Desk - Assembly Manual
We Also Recommend