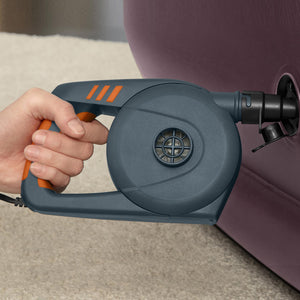 Air Pump
SKU:
48710
POWERGRIP AC AIR PUMP 
Model no: 62145
Brand: BESTWAY
ALU: 6942138974713
Color: ASST  
Bestway – Air Pump
PowerGrip AC Air Pump
Brand: Bestway
Model: 62145
Color: Assorted Color
Rated Power: 210W
Rated Voltage: 220-240 V
Rated Frequency: 50 Hz
Air Flow: 1100 L/min
Max pressure: 680 mmH20
Features:
Large air chamber for rapid inflation.
Designed to provide maximum airflow.
3 valve adaptors to fit nearly every inflation valve.
Quickly inflates and deflates almost all inflatable products.
We Also Recommend