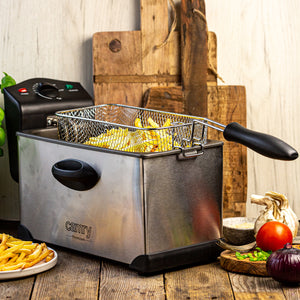 Deep Fryer (3L)
SKU:
47241
2000W
Model no: CR4909
Brand: CAMRY
ALU: 5908256839991
Size: 3LTR
Color: GREY
Camry – Deep Fryer
Brand: Camry
Model: CR4909
Color: Grey
Capacity: 3 Liter
Rated Power: 2000W
Rated Voltage: 220-240V~
Rated Frequency: 50/60Hz
Material: Plastic + Stainless Steel
Warranty: 1 Year Warranty
Features:
Filter in the lid.
Removable heater.
Regulated thermostat.
Removable oil container.
Basket with a lifting function.
The device is also easy to clean since it is equipped with a removable oil container.
You can drip the surplus of fat thanks to the basket with lifting function that has a folding handle.
It has a capacity of 3.0l is perfect when preparing such deep-fried meals or additives for a number of people.
It can fry your frites, onion rings, vegetables or meat easily at home: the device is equipped with a filter in the lid and a lit opening button.
We Also Recommend