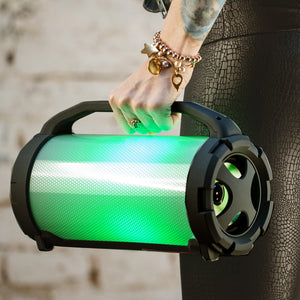 Speaker
SKU:
50571
30W BLUETOOTH RGB LED
Model no: CR1172
Brand: CAMRY
ALU: 5902934836265
Color: BLACK
Camry – Speaker
Bluetooth RGB LED
Brand: Camry
Model: CR1172
Color: Black
Rated Power: 30W
Battery Capacity: 1200mAH
Transmission Distance: 10m
Bluetooth: 4.0V
FM: 87.50 - 108.00MHz
Transducer: 4-inch Speaker
Max. Memory Support for SD card: 32GB
Warranty: 12 Months Warranty
Features:
RCG LED Light.
The Camry CR 1172 bluetooth speaker is equipped with Bluetooth technology, so you can play music from various sources
It is also possible to connect other audio sources using the AUX connector. The device can also be used as an FM radio.
The device has been additionally equipped with a USB socket for playing mp3 files, thanks to which you only need to take a USB stick with you and a micro SD card slot when traveling.
We Also Recommend