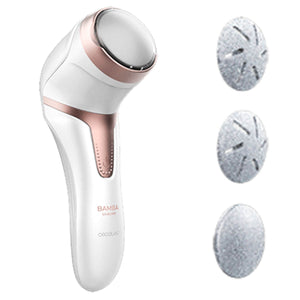 Foot File
SKU:
48020
ELECTRIC BAMBA SKINCARE PURE 
Model no: 4243
Brand: CECOTEC
ALU: 8435484042437
Color: WHITE
Cecotec – Foot File
Bamba SkinCare Pure Electric
Brand: Cecotec
Model: 4243
Color: White
Waterproof: Yes
Suction Function: Yes
Includes:
Interchangeable Discs – X3
Cleaning Brush – X1
Supply Cord – X1
Manual – X1
Warranty: 12 Months Warranty
Features:
Charging time of 120 mins, with an autonomy of up to 100 min of uninterrupted use.
Electric file with lithium battery makes it lighter and more comfortable to use, suction function and water resistant.
The body has an ergonomic design to fit in the hand, as well as on/off button and LED indicators, making it much easier and easier to use.
It has two modes of use, the wireless mode for no movement limitations and the wired mode so you dont run out of power at any time, as well as two speeds to suit any need.
Features 3 interchangeable discs with micro-abrasive particles of quartz sand, a material that makes them much more effective and durable so you have the finish you need in every area and time, and they are washable under water.
We Also Recommend