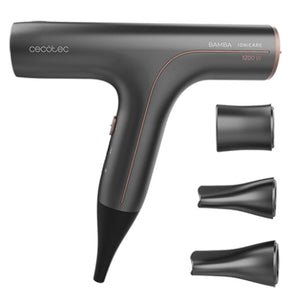 Hair Dryer
SKU:
48322
2000W 6000 ROCKSTAR SOFT
Model no: 4244
Brand: CECOTEC
ALU: 8435484042444
Color: DARK GREY
Cecotec - Hair Dryer
Bamba IoniCare 6000 Rockstar Soft
Brand: Cecotec
Model: 4244
Color: Dark Grey
Rated Power: 1200W
No. of Speeds & Temperatures: 5
Foldable Handle: No
Cable Length: 1.75m
Accessories Includes:
Diffuser – x1
Narrow Concentrator Nozzle – x1
Wide Concentrator Nozzle – x1
Round Concentrator Nozzle – x1
Warranty: 12 Months Warranty
Features:
Cold Air function allows you to obtain long-lasting results and a professional style in all your hairstyles.
Memory function: This function saves the last speed and temperature settings that you used previously.
Extreme Protect function: Function that takes care of your hair thanks to its automatic oscillating temperature.
Easy Clean function that cleans the filter automatically to take care of the hair dryer and keep it working like the first day.
New optimized low consumption digital motor with which the drying power increases considerably; powerful and constant airflow.
It includes 3 magnetic nozzles, 2 concentrator nozzles and another special one that straightens the hair in a professional way.
The Negative Ion Generator shows off hair's natural shine and leaves it looking radiant and manageable as static and frizz are reduced.
Thanks to the digital motor, the hair dryer becomes lighter and quieter. Thanks to the elimination of soft bristles, friction is reduced and noise is reduced during use.
The digital motor is more powerful thanks to better efficiency, which allows you to generate more airflow, taking full advantage of the power and reducing the drying time of the hair.
5 temperature and speed settings allow you to adjust airflow and temperature for complete control while drying all hair types.
Smart heat control: It includes a state-of-the-art thermostat that measures air temperature and sends the information to the microprocessor to intelligently control the temperature to prevent damage caused by uncontrolled extreme heat.
We Also Recommend