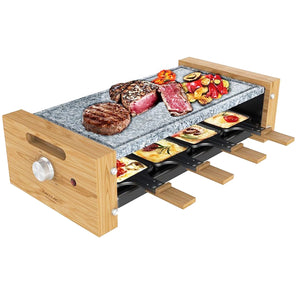 Griller
SKU:
50611
1200W CHEESE&GRILL 8600 WOOD ALLSTONE
Model no: 3101
Brand: CECOTEC
ALU: 8435484031011
Color: BROWN/GREY
Cecotec – Griller
Cheese&Grill 8600 Wood AllStone
Brand: Cecotec
Model: 3101
Color: Brown/Grey
Rated Power: 1200W
Non-Stick: Yes
Adjustable thermostat: min to max
Cooking Surface: 38 x 20cm (15" x 7.9")
Dimension (W x D x H): 46.5 x 13 x 22.5cm (18.3" x 5.1" x 8.9")
Warranty: 12 Months Warranty
Features:
Indicator light for safe use.
Removable grill and cups: easy to wash.
Extractable design that facilitates its cleaning.
Thermostatic fuse that protects the squeegee against overheating.
Non-slip feet that ensure that the product always remains very stable.
All cooking surfaces are non-stick so you can clean them easily and quickly.
Designed to cook directly at the table or be used as a tray to keep food warm longer.
Natural stone non-stick plate. Healthy cooking, without fats or oils. Food does not stick.
Plancha surface for cooking meat and vegetables or even seafood or fish. Enjoy a complete dining experience.
Includes: 8 individual non-stick cups for melting cheese, preparing fried eggs and even preparing desserts.
Adjustable thermostat that allows you to adjust the temperature to reach the perfect cooking point for each preparation.
Raclette with 1200 W of power, ideal for grilling and baking. Melt cheese in a short time while cooking a wide variety of foods.
Raclette for 8 people. Perfect for dinners with family or friends. Enjoy a creative meal using your favorite ingredients.
We Also Recommend