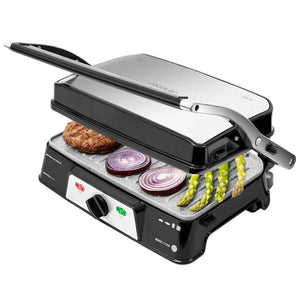 Griller
SKU:
50614
1500W ROCK 'N GRILL 1500 TAKE&CLEAN 
Model no: 3060
Brand: CECOTEC
ALU: 8435484030601
Color: BLACK/GREY
Cecotec – Griller
Rock´nGrill 1500 Take&Clean
Brand: Cecotec
Model: 3060
Color: Black/Silver
Rated Power: 1500W
Non-Stick: Yes
Grease Tray: Yes
Adjustable temperature: min to max
Cooking Surface (each plate): 28.7 x 17cm (11.3" x 6.7")
Warranty: 12 Months Warranty
Features:
Cool touch handle.
Electric grill with 1500 W of power.
Ample cooking surface of 28.7 x 17 cm.
Floating top plate that adapts in height to all foods.
Indicator light for operation and temperature reached.
180º opening to make the most of the cooking surface.
Closing clip that allows it to be stored vertically and non-slip base.
Eco-friendly coating, free of PTFE, PFOA and other toxic products.
RockStone stone coating that ensures maximum non-stick and makes cleaning easier.
Removable plates that are suitable for cleaning in the dishwasher to make cleaning easier.
Grease tray to improve use and cleaning and adapted plates with grease outlet for more practical and clean use.
Click here for User Manual
We Also Recommend