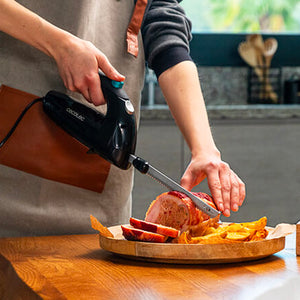 Electric Knife
SKU:
50656
150W CUT-EAT 1800 BLACK 
Model no: 3183
Brand: CECOTEC
ALU: 8435484031837
Color: BLACK/GREY

Cecotec – Electric Knife
Cut-Eat 1800 Black
Brand: Cecotec
Model: 3183
Color: Black/Grey
Rated Power: 150W
Safety Switch: Yes
Dishwasher Safe: Yes (blades only)
Accessories Included: blades (x3), and storage box (x1)
Warranty: 12 Months Warranty
Features:
Easy to clean, dishwasher safe blades.
Quiet operation and low vibration level.
It includes a practical storage box to store the knife after use.
Double-pressed safety switch to prevent accidental activation of the blade.
Easily and safely removable blades thanks to the eject button and finger guard.
Ergonomic design and buttons that facilitate comfortable and easy use, without wear.
Electric knife with 150W of power, perfect for cutting all kinds of food quickly and effortlessly.
Contains 3 stainless steel blades to ensure a clean and precise cut in meat, bread, fruit and vegetables as well as sausages.
Click here for User Manual

We Also Recommend