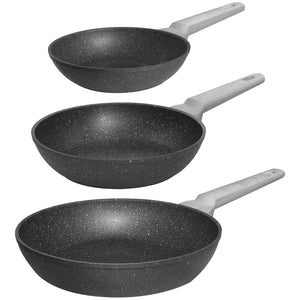 Wok Pan Set (3 PCS)
SKU:
52143
INDUCTION
Model: 3159
Brand: CECOTEC
ALU: 8435484031592
Size: 18-22-26CM
Color: DARK GREY

Cecotec – Wok Pan
Polka Exclusive 18-22-26 Bucket Set Wood&Rock (3 Pieces)
Brand: Cecotec
Model: 3159
Color: Dark Grey
Material: Aluminum
Inner Diameter:
Ø18cm (Ø7")
Ø22cm (Ø8.7")
Ø26cm (Ø10.2")
Dimension (W x D x H):
Ø18cm - 36.5 x 19 x 4cm (14.4" x 7.5" x 1.6")
Ø22cm - 40.5 x 23 x 5cm (15.9" x 9.1" x 2")
Ø26cm - 46 x 27 x 5.5cm (18.1" x 10.6" x 2.2")
Features:
Dishwasher safe.
With cool Bakelite handle.
Made from high-quality forged aluminum. 
Suitable for all types of stoves, including induction.
Non-deformable bottom, 5-mm thick, with 6 layers for extra strength.
Diameters of the induction plates of 124mm, 164mm and 202mm respectively.
Non-stick 100% PFOA-free and eco-friendly coating, Select Teflon® Nonstick Coating.
 "Full Induction" EcoHeat diffuser bottom which allows for a better heat distribution and energy saving.
We Also Recommend