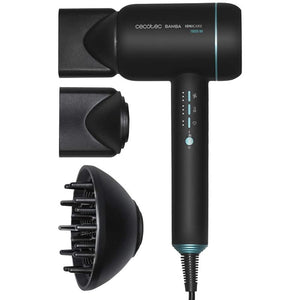 Hair Dryer
SKU:
48026
1800W BAMBA IONCARE 6000 ROCKSTARE ICE 
Model no: 4227
Brand: CECOTEC
ALU: 8435484042277
Color: BLACK
Cecotec - Hair Dryer
Bamba IoniCare 6000 RockStar Ice
Brand: Cecotec
Model: 4227
Color: Black
Rated Power: 1800W
No. of Speeds: 3 (Low / Medium / High)
No. of Temperatures: 3 (Low / Medium / High)
Foldable Handle: No
Cable Length: 1.8m
Accessories Includes:
Diffuser – x1
Narrow Concentrator Nozzle – x1
Normal Concentrator Nozzle – x1
Warranty: 12 Months Warranty
Features:
Its two professional concentrator tips help define and smooth the hair.
The hair dryer includes a diffuser designed to achieve more natural, frizz-free curls.
Includes professional accessories easy to exchange thanks to their magnetic attachment.
Ionic hair dryer with Digital Brushless motor that makes it more efficient, powerful, silent and light.
Extreme Protect function: Special function that takes care of your hair through automatic oscillating temperature.
6 temperature and speed settings allow you to adjust airflow and temperature for complete control while drying all hair types.
Air Repair technology to hydrate hair as you use it. It improves its look and avoids the damage that normally occurs when heat is applied to the hair.
The digital motor has 17 leaves that generate an inaudible frequency which makes it quieter than other hair dryers equipped with another type of motor.
The life of the device increases thanks to the fact that we have eliminated the soft bristles of the digital motor, avoiding the wear that these produce on the device.
Smart heat control. It includes a state-of-the-art thermostat that measures the air temperature and sends the information to the microprocessor to intelligently control the temperature to prevent damage caused by uncontrolled extreme heat.
We Also Recommend