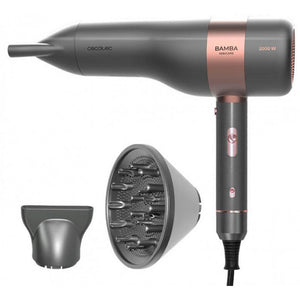 Hair Dryer
SKU:
46110
2000W BAMBA IONICARE 6000 ROCKSTAR VISION 
Model no: 4225
Brand: CECOTEC
ALU: 8435484042253
Color: DARK GREY
Cecotec - Hair Dryer
Bamba IoniCare 6000 RockStar Vision
Brand: Cectoec
Model: 4225
Color: Dark Grey
Rated Power: 2000W
LCD Display: Yes
No. of Speeds: 2
No. of Temperatures: 3
Foldable Handle: No
Cable Length: 2.8m
Accessories Includes:
Diffuser – x1
Concentrator Nozzle – x1
Warranty: 12 Months Warranty
Features:
Digital Brushless motor that optimizes drying power with constant airflow.
Cold Air function allows you to obtain long-lasting results and a professional style in all your hairstyles.
You'll have total control while drying thanks to the 3 preset temperatures and speed adjustment.
LCD display that shows the ionizing function and the temperature with which the hair dryer works to have absolute control.
Includes a diffuser to obtain more volume and defined curls, and also a concentrator nozzle to perfect the hairstyle and smooth the hair.
The ion generator shows off the hair's natural shine and leaves it looking radiant and manageable with reduced static and frizz.
The Digital Brushless motor is more powerful thanks to greater efficiency, which allows you to generate more airflow, making the most of the power and reducing the drying time of the hair.
Thanks to the Digital Brushless Motor, it is lighter and quieter than other hair dryers equipped with another type of motor. Thanks to the elimination of soft bristles, friction is reduced and noise is reduced during use.
We Also Recommend