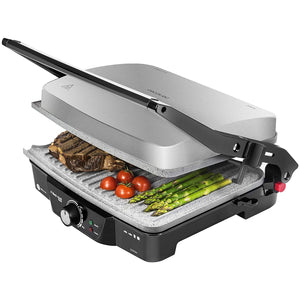 Griller
SKU:
50617
2000W ROCK 'N GRILL 
Model no: 3025
Brand: CECOTEC
ALU: 8435484030250
Color: BLACK/SILVER
Cecotec – Griller
Rock'nGrill 2000W
Brand: Cecotec
Model: 3025
Color: Black/Silver
Rated Power: 2000W
Grease Drip Tray: Yes
Non-stick coating: RockStone coating
Adjustable temperature: min to max
Removable Plates: No
Cooking Surface (each plate): 30 x 23.5cm (11.8" x 9.3")
Warranty: 12 Months Warranty
Features:
Cool touch handle.
Electric grill with 2000 W of power.
Floating top plate that adjusts in height.
Ample cooking surface of 29.7 x 23.5 cm.
2 grease trays to improve use and cleaning.
Indicator light for operation and temperature reached.
180º opening to make the most of the cooking surface.
Eco-friendly coating, free of PTFE, PFOA and other toxic products.
Closing clip that allows it to be stored vertically and non-slip base.
Adaptable plates with grease outlet for more practical and clean use.
RockStone stone coating that ensures maximum non-stickiness and facilitates cleaning.
Click here for User Manual
We Also Recommend