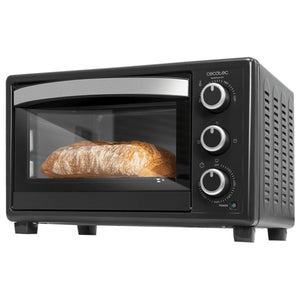 Oven (23L)
SKU:
52138
1500W BAKE'N TOAST 550 
Model no: 2203
Brand: CECOTEC
ALU: 8435484022033
Color: DARK GREY
Size: 23L

Cecotec – Oven
Bake&Toast 550
Brand: Cecotec
Model: 2203
Color: Black
Capacity: 23 Liter
Rated Power: 1500W
Timer: up to 60 minutes
Adjustable Temperature: up to 230°C
Convection Cooking: No
No. of Heating Modes: 3
Upper heating  
Lower heating 
Combined lower + upper heating
Accessories Included: Baking Tray (x1), Grill Rack (x1), & Tray Handle (x1)
Dimension (W x D x H): 45.5 x 33.5 x 28.8cm (17.9" x 13.2" x 11.3")
Warranty: 12 Months Warranty
Features:
23-liter capacity.
Timer up to 60 minutes.
Quartz heating elements.
Tabletop oven in lacquered steel.
Adjustable temperature up to 230 ºC.
1500 W of power for optimal performance.
Operating indicator light and non-slip base.
Crumb-collecting tray ensures easy cleaning.
High resistance double glass door that helps to maintain the temperature.
Included: tray for baking and grilling and handle with clip for extracting food.
3 ways of cooking thanks to the 3 heat modes: grill, base heat and combined function.
We Also Recommend