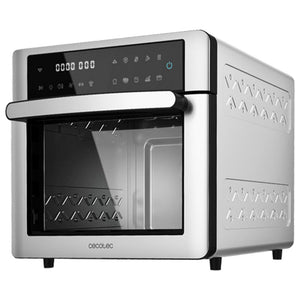 Air Fryer Oven (26L)
SKU:
52177
1600W BAKE&FRY 2500 TOUCH STEEL 
Model no: 2264
Brand: CECOTEC
ALU: 8435484022644
Color: SILVER
Size: 26L

Cecotec – Air Fryer Oven
Bake&Fry 2500 Touch Steel
Brand: Cecotec
Model: 2264
Color: Silver
Capacity: 26 Liter
Rated Power: 1600W
Adjustable Temperature: up to 230°C
No. of Preset Function: 9 (Air Fry, Dehydrate, Pizza, Keep Warm, Toast, Broil, Bake, Roast Chicken, and Proof)
Convection Cooking: Yes
Accessories Included: Baking Rack (x1), Fryer Basket (x1), Rotisserie (x1) Rotisserie Handle (x1), Pizza Stone (x1), Grease Tray (x1) & Oven mitts (x1)
Dimension (W x D x H): 44.5 x 36.5 x 33cm (17.5" x 14.4" x 13")
Warranty: 12 Months Warranty
Features:
26-liter capacity.
Adjustable temperature up to 230 ºC.
1600 W of power for optimal performance.
Equipped with interior light that helps you control the state of cooking.
Big touch screen. Quickly select any function on the menu with a simple touch.
The surface reaches a low temperature level, thus achieving a much safer and less harmful use.
It includes a rotating rotisserie that allows you to roast chickens with heat distributed over 360º.
Tabletop oven with a capacity of 26 L. Compact size, suitable for introducing a whole chicken or turkey.
Door with 5 layers and high resistance double glass that helps to maintain the temperature.
Convection cooks evenly with the air that surrounds the food and achieves tender and tasty results.
The power of air frying in an oven. Get foods with characteristics similar to those fried and with hardly any fat. 
We Also Recommend