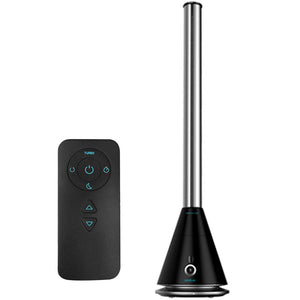 Tower Fan
SKU:
48336
ENERGYSILENCE 9900 BLADELESS 
Model no: 5927
Brand: CECOTEC
ALU: 8435484059275

Cecotec – Tower Fan
EnergySilence 9900 Skyline Bladeless
Brand: Cecotec
Model: 5927
Color: Black
Rated Power: 26W
Remote Control: Yes
No. of Speeds: 9
Copper Motor: Yes
Oscillation Mode: Yes
Timer: 8-hours
Dimension (Base Dia. x H): Ø23cm x 96cm (Ø9.1" x 37.8")
Warranty: 12 Months Warranty
Features:
Easy to move: Easy to move and to store thanks to its design and lightness.
9 Speed Function: 9 speeds to adjust air flow intensity to each of your needs.
Control Total: Remote control to use all the fan's parameters and schedule it simply and easily.
Energy Silence Technology: instant profound feeling of fresh air with maximum silence and comfort.
Rotate Wind: Oscillation mode to create a greater air flow angle and to offer a wider freshness area.
Cool Timer: Programmable timer of up to 8 hours, time after which the fan turns automatically off for maximum comfort during use and to save energy.
Health & Safety: The fan complies with environmental safety and protection current legislation, so you can take care of your people and your environment.
Air Bladeless: Innovating technology without blades that takes in air in the environment and redirects it, creating a powerful refreshing air flow very fast.
Simplicity Design: Well-cared minimalist design, 96-cm tall (38") with elegant lines that adapt to your home's decoration. It is also light to improve its transportation and storage.
Copper Engine: Exclusive motor made of 100 % high-efficiency copper, completely reliable and maximum durability. It incorporates ThermoSafe security system to lengthen the fan's service life and to avoid incidents and faults.
We Also Recommend