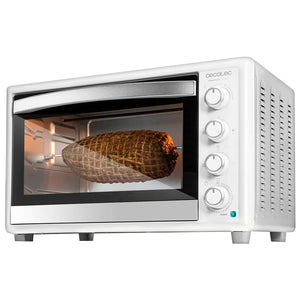 Oven (46L)
SKU:
46124
1500W BAKE & TOAST 790 GYRO 
Model no: 2209
Brand: CECOTEC
ALU: 8435484022095
Color: WHITE
Size: 46L

Cecotec – Oven
Bake&Toast 790 Gyro
Brand: Cecotec
Model: 2209
Color: White
Capacity: 46 Liter
Rated Power: 1500W
Timer: up to 60 minutes
Adjustable Temperature: up to 230°C
Convection Cooking: Yes
No. of Functions: 3
Convection
Rotisserie
Convection + Rotisserie
No. of Heating Modes: 3
Upper heating
Lower heating
Upper & Lower heating
Accessories Included: Baking Tray (x1), Grill Rack (x1), Tray Handle (x1), Rotisserie (x1), & Rotisserie Handle (x1)
Dimension (W x D x H): 57.5 x 39.5 x 37 cm (22.6" x 15.6" x 14.6")
Warranty: 12 Months Warranty
Features:
46-litre capacity.
60-minute timer.
1500 W, for a high performance.
Handle with stainless-steel trim.
Adjustable temperature up to 230 ºC.
Convection oven with elegant design.
Operation indicator light and non-skid base.
Crumb-collecting tray ensures easy cleaning.
Equipped with inside light to control cooking process.
High-resistance double-glass door improves heat maintenances.
Includes baking tray, grill rack, handle and tongs to take out accessories.
12 ways to cook thanks to 12 functions, which combine heat, rotisserie and convection.
It includes a rotating rotisserie that allows you to roast chickens with heat distributed over 360º.
Convection cooks evenly with the air that surrounds the food and achieves tender and tasty results.
We Also Recommend