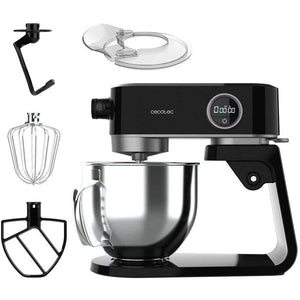 Stand Mixer (5.2L)
SKU:
48065
8 SPEEDS (800W) 
Model no: 4169
Brand: CECOTEC
ALU: 8435484041690
Color: BLACK
Size: 5.2L

Cecotec – Stand Mixer
Twist&Fusion 4000 Luxury Black
Brand: Cecotec
Model: 4169
Color: Black
Capacity: 5.2 Liter
Power Levels: 5
Rated Power: 800W
No. of Speeds: 8 Speeds
No. of Functions: 6 (Knead, beat, whip, emulsify, mix, and stir)
Noise Level: 75dB
Mixer Coating: Teflon
Dishwasher Safe (Attachments): Yes
Material: Stainless Steel + Aluminum
Warranty: 12 Months Warranty
Features:
Includes a full recipe book.
Silent system, below 75 dB.
Attachments are dishwasher safe.
8 adjustable speeds, to fit any recipe.
Includes: whisks, mixer and kneading hook.
6 functions: Knead, beat, whip, emulsify, mix, and stir.
Made of cast aluminium for greater safety and stability.
Smooth, square design. Perfect for cooking any type of preparation.
Mixer coated with Teflon for perfect mixing of short pastry, cookie dough…
Stainless-steel beating whisks, perfect for beating egg whites, cream, meringue…
Planetary motion system, greater reach and perfect mixing of all types of ingredients.
User-friendly thanks to its digital rotary knob and LED display, timer and time and speed indicator.
HardGear System direct transmission mechanism through steel gears to make the most of its power.
Kneading arm coated with special Teflon for kneading heavy and thick doughs such as those for bread, pizza or pasta.
Stand mixer with powerful DC motor of 800 W, perfect for thick dough and mixtures. Even results with perfect consistency.
Stainless-steel bowl with capacity for 5.2L. It includes a handle for a more comfortable use, and transparent splash-proof lid with a filling opening.
Safety pack: Kneading arm holder and smooth start-up, automatic stop, protection against overheating and non-slip feet.
We Also Recommend