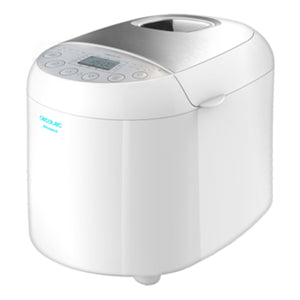 Bread Maker (1kg)
SKU:
50587
19 PROGRAMS (600W) 
Model no: 2228
Brand: CECOTEC
ALU: 8435484022286
Color: WHITE

Cecotec – Bread Maker
Bread&Co 1000 Delicious
Brand: Cecotec
Model: 2228
Color: White
Rated Power: 600W
Rated Voltage: 220-240V
Rated Frequency: 50/60Hz
19 Programs:
Basic bread
Quick bread
Sweet bread
French bread

Whole wheat bread
Rice bread
Gluten-free bread
Dessert
Mix
Dough
Knead
Cake
Jam
Yogurt
Bake
Sticky Rice
Rice wine
Defrost
Stir-Fry
Accessories Included:
Measuring Spoon – x1
Measuring Cup – x1
Hook for removing stirrers from bread – x1.
Warranty: 12 months warranty
Features:
Viewing window to see the brewing process perfectly.
It has a recipe book to advise you with the preparations.
You can make 500 g, 750 g and 1 kg loaves for any time of the day.
It has 3 levels of crust toasting, from lightly toasted to very crispy.
Removable non-stick bowl suitable for quick and easy cleanup in the dishwasher.
Includes accessories to facilitate its use: hook, measuring cup and measuring spoon.
Very intuitive LCD screen that allows you to select programs and weight settings in the simplest way.
Programmable up to 15 hours so you can enjoy freshly baked bread before eating and the possibility of 60 minutes to keep it warm.
Bread maker with 19 automatic programs to make delicious breads, dough, biscuits, jams, yogurts and an endless number of fantastic homemade preparations.
Click here for User Manual
We Also Recommend