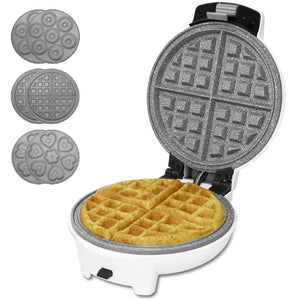 Waffle Maker (3 in 1)
SKU:
46141
NON-STICK (700W) 
Model no: 8005
Brand: CECOTEC
ALU: 8435484080057
Color: WHITE
Cecotec – Waffle Maker
Fun Gofrestone 3 in 1
Brand: Cecotec
Model: 8005
Color: White
Rated Power: 700W
Rated Voltage: 220 - 240 V
Rated Frequency: 50 Hz
Interchangeable Plates: Donuts, Muffins & Waffles
Coating: Rockstone Coating
Non-Stick Coating: Yes
Warranty: 12 Months Warranty
Features:
Non-skid base.
On and off light indicator.
Easy-to-remove and dishwasher-safe plates.
3-in-1 electric waffle maker with round design and 700 W.
Ecological coating, free from PTFE, PFOA and easier to clean.
3 in 1: interchangeable plates for cooking donuts, muffins and waffles.
Light indicator that lets you know when the waffle maker is ready to cook.
Safe use thanks to its protection against overheating and cool-touch handle.
Includes: Waffle Plates (x2), Muffin Plates (x2) & Donut Plates (x2).
We Also Recommend