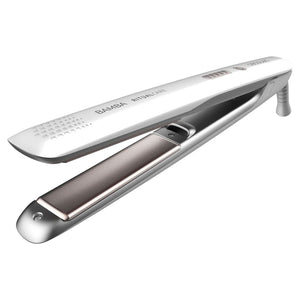 Hair Straightener
SKU:
50631
BAMBA RITUALCARE 885 HIDRAPROTECT ION 
Model no: 4231
Brand: CECOTEC
ALU: 8435484042314
Color: WHITE
Cecotec – Hair Straightener
Bamba Ritualcare 885 Hidraprotect Ion
Brand: Cecotec
Model: 4231
Color: White
Rated Power: 42W
Plate material: Ceramic
Coating: Keratin and Argan Oil Coating
Temperature Range: 140° - 220°C
Cable Length: 1.6m
Warranty: 12 Months Warranty
Features:
Temperature selector with buttons for easier control of settings.
Adjustable temperature between 140 ºC and 220 ºC to adapt to your hair.
Coating in keratin and Argan oil which provides vitamin E for shiny, healthy and soft hair.
Real Ion. Shiny and soft hair thanks to the negatively charged ions generated by tourmaline.
Plates designed for maximum glide over the hair to reduce jerking and hair breakage during use.
Suitable for all hair types. It has preset temperatures ideal for fine, normal hair or thick, very curly hair.
3D floating plates to unify the pressure on all the hair and maintain constant contact between the plates and the strand.
Multi-Style Design. Straightener designed to achieve perfect straightening and flexible, defined waves and curls, without frizz.
Click here for User Manual
We Also Recommend