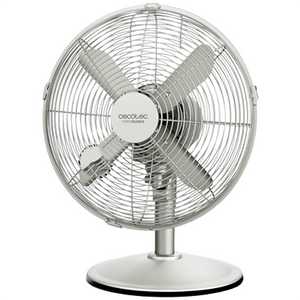 Table Fan (Ø12")
SKU:
46135
3 SPEEDS (45W) 
Model no: 5214
Brand: CECOTEC 
ALU: 8435484052146
Color: SILVER

Cecotec – Table Fan
EnergySilence 570 SteelDesk
Brand: Cecotec
Model: 5214
Color: Silver
Blade Diameter: 30cm (12")
Rated Power: 45W
Rated Voltage: 220-240V
Rated Frequency: 50/60Hz
Sound level: 59 dB
No. of Speeds: 3
Warranty: 12 Months Warranty
Features:
Easy to Move: Light, easy to move and to store.
TotalControl: System that allows you to adjust airflow's angle of incidence.
Security System: Integral security system consisting of the following elements:

Safety grid that stops users from accessing to the blades.
Great-surface stable and solid base, in order to ensure total stability.

3 Speed Function: Choose between 3 operating speeds in order to adjust airflow intensity to your needs:

TURBO: Enjoy maximum freshness without giving up silence with speed 3- high.
ECO: Keep your home fresh and save energy and money in your electricity bill with speed 2- medium.
SLEEP: Enjoy a calmed restful sleep with speed 1- low.

Rotate Wind: Blade-oscillation mode in order to provide a greater airflow angle and a wide coolness area.
EnergySilence Technology: Creates an instant profound feeling of fresh air with maximum silence and comfort.
Steel Design: Careful design with elegant lines and finished in steel. Adapts perfectly to your home decoration.
Health & Safety: This fan complies with current safety and environmental protection regulations. Take care of your people and your environment.
AirFlow4 Pro: Technology system consisting of 4 blades of 30 cm/12" in diameter, in order to ensure maximum fresh air flow in the most efficient way.
Copper Engine: High-efficiency exclusive motor (100 % copper), maximum liability and durability. Includes TermoSafe security system which lengthens the fan's shelf life and avoids damages and malfunctions.
We Also Recommend