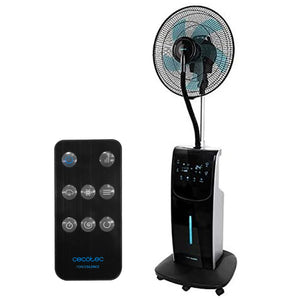 Stand Fan
SKU:
50681
ENERGYSILENCE 790 FRESHESSENCE ICONIC 
Model no: 5229
Brand: CECOTEC
ALU: 8435484052290
Color: BLACK

Cecotec – Stand Fan
Anti-mosquito function. Tablets not included.
SecuritySystem: Integral security system composed of:

A safety grid that prevents access to the blades.
Blades made of semisoft AS material, for greater security.
Large solid and stable base that ensures maximum stability.

Easy to move system, its casters that allow moving and storing it easily.
TotalControl: system that allows adjusting the air flow's angle of incidence.
3 speeds to adjust air flow intensity (Low, Night, medium-Normal and high-Turbo).
Ionizing function that produces negative ions to remove dust particles from the environment.
SmartControl, smart system thanks to its remote control and its LCD display. Intuitive and easy to use.
RotateWind: blade-oscillation mode to create a greater air flow angle and to offer a wider freshness area.
AirFlow5 technology that consists of 5 great-diameter blades to ensure maximum and efficient fresh air flow.
Mist technology FreshEssence, refreshes the environment with water microparticles. Enjoy a pleasant environment with the best smell and maximum comfort.
EnergySilence Technology system that creates an instant deep feeling of fresh air with maximum silence and comfort.
It complies with environmental safety and protection current legislation, so you can take care of your people and your environment.
Enjoy a nice environment with pleasant scent thanks to its PureAroma system that allows pouring aromatic oils into a specific tank. Aromatic oils not included.
Programmable timer that can be scheduled up to 12 hours, time after which the fan turns automatically off for maximum comfort and to save energy.
MinimalDesign: Minimalist well-cared design with elegant lines that adapt to your home and turn it into the ideal decorative element during warm seasons.
CopperEngine: Exclusive motor made of 100 % high-efficiency copper, completely reliable and maximum durability. Lengthens the fan's service life and avoids incidents and faults thanks to its ThermoSafe security system.
Its large tank, 3L, achieves a 12-hour range of water mist allowing you to enjoy the best environments the whole day. The tank also Adjustable Mist system with 3 steam speeds to adapt steam water separately and create different environments at home or in your terrace. 
EnergySilence 790 FreshEssence Ionic
Brand: Cecotec
Model: 5229
Color: Black
Rated Power: 90W
Tank Capacity: 3 Liter
Timer: up to 12 hours
Remote Control: Yes
Oscillation: Yes
Motor: Copper
No. of Fan Blades: 5 blades
No. of Speeds: 3 (Low, Medium & High)
Warranty: 12 Months Warranty
Click here for User Manual
We Also Recommend