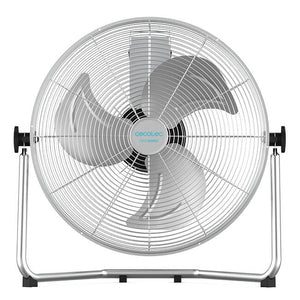 Floor Fan (Ø18")
SKU:
44246
3 SPEEDS (100W)
Model no: 5230
Brand: CECOTEC
ALU: 8435484052306
Color: GREY

Cecotec – Floor Fan
ForceSilence 4100 Pro
Brand: Cecotec
Model: 5230
Color: Grey
Blade Diameter: 45cm (18")
Rated Power: 100W
Rated Voltage: 220 – 240V
Rated Frequency: 50/60Hz
No. of Speeds: 3
No. of Blades: 3
Dimension: 56 x 21 x 57 cm
Weight: 4.95kg
Warranty: 12 Months Warranty
Features:
Power Wind Pro: Professional fan, maximum power, produces powerful air flow thanks to its high-quality materials and design.
Air Flow 3: System that consists of metallic blades (45 cm / 18" diameter) to ensure maximum and efficient fresh-air flow release.
Force Silence Technology: Creates an instant profound feeling of fresh air with maximum silence and comfort.
Copper Engine: Exclusive motor made of 100 % high-efficiency copper, completely reliable and maximum durability. It incorporates ThermoSafe security system to lengthen the fan's service life and to avoid incidents and faults.
3 Speed Functions: Choose between its 3 operating speeds (Eco, Normal and Turbo) to adjust air flow intensity to your needs.
Total Control: The fan's tilt grade can be adjusted just by pressing the fan's cover, adapting to all users and situations.
Security System: Integral security system composed of:A safety grid that prevents access to the blades. Great-stability base.
Health&Safety: The fan complies with environmental safety and protection current legislation, so you can take care of your people and your environment.
Maximum-quality finish to ensure the best performance in harsh environments: industrial, commercial and outdoors.
We Also Recommend