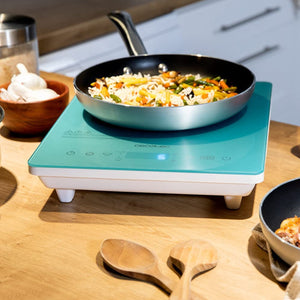 Induction Cooktop
SKU:
48325
FULL CRYSTAL SKY (2000W) 
Model no: 8016
Brand: CECOTEC
ALU: 8435484080163
Color: BLUE
Cecotec – Induction Cooktop
Full Crystal Sky
Brand: Cecotec
Model: 8016
Color: Blue
Rated Power: 2000W
Touch Control: Yes
Cooking Surface: Highly-resistant Enameled Glass
Suitable Pans Diameter: up to Ø28cm
Timer: up to 180 minutes (3 Hours)
Programmable Cooking Time: up to 24 Hr
Temperature Range: 60°C – 260°C
No. of Programs: 4 Preset Programs (Warm, Soup, Coffee & Rice)
Dimension (W x D x H): 28 x 35 x 5.6cm (11" x 13.8" x 2.2")
Warranty: 12 Months Warranty
Features:
Suitable for pans of up to 28 cm.
It has 4 different preset programs: Keep warm, soup, coffee and rice, plus a manual mode.
Temperature can be adjusted from 60 °C to 260 °C, in order to meet each food's requirements.
Its 2000 W allow cooking fast and easily and selecting 10 different power levels while saving energy.
Program the desired cooking time up to 24 hours and then the device will automatically turn off.
Digital timer of up to 180 minutes with countdown display for a better control of the cooking times.
Thermostat with protection against overheating that turns the hob automatically off in case of excessive heat.
"Preserve" function that keeps food hot for as long as desired, so you have your meals always ready to eat.
The induction hob is designed with Full Crystal display, touch control, elegant details and a cooking surface made from highly-resistant enameled glass, which makes it very easy to clean.
We Also Recommend