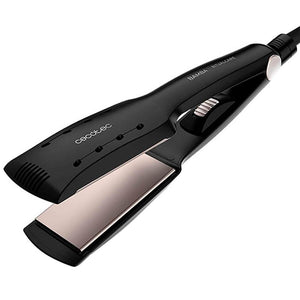 Hair Straightener
SKU:
44621
RITUALCARE 900 WET & DRY
Model no: 4214
Brand: CECOTEC
ALU: 8435484042147
Color: BLACK
Cecotec – Hair Straightener
Bamba Ritualcare 900 Wet&Dry Max
Brand: Cecotec
Model: 4214
Color: Black
Plate Material: Ceramic
Coating: Keratin and Argan Oil
Max. Temperature: 210°C
Cable Length: 3m
Warranty: 12 Months Warranty
Features:
Wet&Dry. Straightener designed to use on dry or damp hair.
XL plates: 55mm thick plates to straighten more hair in one pass.
Protective keratin. Coating in Keratin and Argan Oil. Shiny, soft and strong hair.
Pro Ionizer. Shiny and soft hair thanks to the negatively charged ions generated by tourmaline.
It has a plate locking system so that it is easier to store and the plates do not get damaged.
Straightener designed with cold tips to make it easier to use and to ensure perfect straightening in every pass.
3D plates: It incorporates floating plates to unify the pressure on all the hair and achieve optimal straightening.
Constant and homogeneous temperature of 210 ºC. Optimal temperature to straighten, in a single pass, thick and voluminous hair.
3 meter cable with 360º system. It allows you to have complete freedom of movement, preventing the cable from winding up and so that you no longer have to worry about sockets.
We Also Recommend