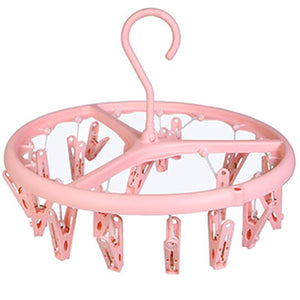 Clothes Hanger (With 18 Pegs)
SKU:
46791
PLASTIC 
Model no: 6710
Brand: CHAHUA
ALU: 6921489031276
Color: ASST
Chahu - Clothes Hanger
With 18 Pegs
Brand: Chahua
Model: 6710
Color: Assorted Color
Dimension (Dia.): 30.3cm (11.9")
Material: PP Plastic
Features:
Pothook is made by PP with good tenacity and not easy to be broken.
360 degree rotatable hook for easy retrieval and hanging of items on the hanger.
Comes with a sturdy hook to prevent hanger from flying off in large wind situations or areas.
We Also Recommend