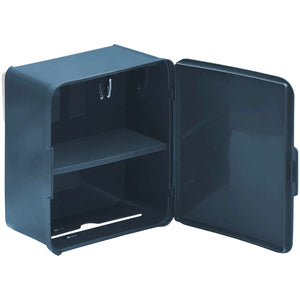 Tissue Holder
SKU:
47171
BATHROOM TISSUE BOX
Model no: J-7333
Brand: CITYLIFE 
ALU: 6970962737532
Color: BLUE
Citylife – Tissue Holder
Anti-Bacterial Bathroom Tissue Box
Brand: Citylife
Model: J-7333
Color: Blue
Capacity: 4.7 Liter
Material: PP Plastic
Dimension (W x D x H): 20.5 x 13 x 24cm (8.1" x 5.1" x 9.4")
Features:
Sturdy and durable hook and able to take most weight.
Anti-bacterial properties allow for safer storage of a variety of items
Multi-purpose use, can be used in the bathroom, bedroom, or living room.
Suppresses growth of up to 99% of bacteria and microorganisms, inhibit increase of bacteria brought home from the environment outside!
Adhesive Design: Easy to install it on the wall and preventing walls from nailing or drilling and ensuring your bathroom neatness and tidiness.
We Also Recommend