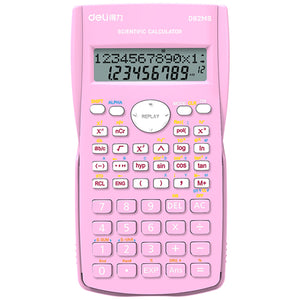 Scientific Calculator
SKU:
52973
240 CALCULATION FUNCTIONS
Model no: D82MS
Brand: DELI
ALU: 6921734995889
Color: PINK

Deli - Scientific Calculator
10 + 2 digits
Brand: Deli
Model: D82MS
Color: Pink
No. of Calculation Functions: 240
Material: Plastic
Dimension (W x D x H): 85 x 22 x 158mm
Features:
LCD widescreen.
Battery Powered.
Perfect for Students.
240 Calculation Functions.
Lightweight and easy to carry.
Sliding protective cover included.
The 12-digit display value is clear and clear, which improves efficiency.
We Also Recommend