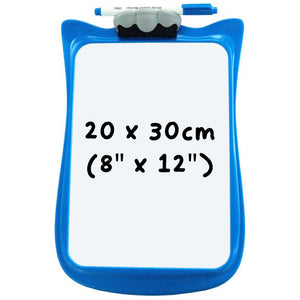 Whiteboard (with Marker & Eraser)
SKU:
39843
KIDS WHITEBOARD 
Model no: 8703
Brand: DELI
ALU: 6921734987037
Size: 20X30CM
Deli - White Board
Kids White Board
Brand: Deli
Model: No: 8703
Color: Assorted Color
Size: 20.6 x 30.3cm (8.1" x 11.9")
Material (Frame): LDPE Plastic
Features:
Easy to carry size.
Double sided writing.
LDPE frame for a comfortable hold.
Removable eraser and marker holder.
Includes: Dry wipe pen (x1), Eraser (x1).
Double-Side Whiteboard: Can be written on both sides of the board.
We Also Recommend